The app development costs highly depend on the type of app that is being developed, and are directly related to its requirements.
Building an app sounds pretty cool, especially if you consider the millions of dollars that big tech companies are making every day just by making and selling applications. Anyone can build a mobile app, provided that they have a basic foundation in coding and application development. However, not many actually understand the cost of developing an app.
Knowing the cost of app development is critical for estimating an appropriate budget and planning. So how much does it cost to make an application, and what does the price depend on? In this article, we will count the app development costs and learn about the factor that affects that cost as well as the solution to level your game.
The costs of application development
Cost of money
Although there isn't a fixed price for building a mobile application, according to Clutch, it costs an average amount of $171,450 to create a mobile application. But don't get us wrong, it can vary greatly. An app development company might spend around $50,000-$70,000 to build a standard app. And the cost might even go past $300,000 for medium-complexity app development, whereas the number might go beyond $500,000 for a custom or complex application.
The app development costs highly depend on the type of app that is being developed, and are directly related to its requirements. Take, for example, basic apps like calculator, clock, or classic note that allow you to write down your list only cost around $10,000 – $15,000 to make, while an eCommerce app like Amazon with features including registration, catalogue, product description, and social messaging cost around $300,000. Advanced technology like Big Data or Artificial Intelligence could drive up the cost by a huge amount.
Cost of resources
Not only does the development of an application cost money, but it also costs many resources, especially human resources. Unlike what people think, developing an app, doesn't just involve one IT guy who does all the coding. For an application to be built, you need more than just code. You will need a designer to work on the layout, prototype, themes, etc. You will also need a project manager, business analyst, UI/UX designer, quality control, and tester to smoothly execute the project and ensure the quality of the application.
And these are just a few examples of the needed resources. In fact, many unnamed tasks might arise once you start the project. Thus, more manpower and resources might need to be allocated. In addition, to create high-quality apps and high-quality projects, you will need relevantly high-quality specialists. That means more money is spent.
One example is developing an eCommerce app. Aside from the code developer who does the coding, a business developer who is in charge of connecting small vendors, an analyst who studies customer journeys, and many other roles will be needed.
Even if you don't put together a team and hire an app development agency, you will still need a manager to supervise the project and provide business information/context to the tech team. In short, the process of making an app requires manpower.
And the cost of time
Let's not forget the cost of time that you will spend on developing the app. Again, this greatly depends on the complexity of the ios app (or android app) that you will build. And while you want to make sure your app is out as soon as possible, you shouldn't overlook the time frame as this can cause many problems later on.
For simple app development, it takes around 2-3 months, around 3-6 months for medium-complexity app development, and 9+ months for a complex app. More time means more money spent and more problems to fix as the project period gets dragged on.
The 3 costs mentioned above are the basic types of costs you will need to consider. Remember, time, resources, money, and the scope of the app affect each other greatly during the app development. Increasing the scope of work (or the app's complexity) means more money, resources, and time. A constraint time means an increase in budget and resources and a decrease in scope. And a tight budget means a decrease in money and resource and an increase in time.
Factors that influence app development costs
Knowing which factors affect the app development cost can help you reduce costs and better control the project. As said before, the budget and the cost can vary greatly depending on the app's complexity. But which aspect of complexity exactly?
Well, there are several things to look at:
The features of the app: What feature do you want to develop in the app, high complexity features like geography, intelligent chatbot, or basic feature like calculate? What kind of technology need to be integrated? How many features do you want the app to have?
The complexity of the type of app: Is it a gaming app, or is it an eCommerce platform? Which platform do you want it to be on (ios or android)?
Visual design: Do you want to use a template design, or do you want it to have a customized visual? (if yes, you need a UI/UX designer).
Development team: Do you want to build the app yourself, creating your own development team, or outsource to an external provider? If you want to outsource, where does the app development agency locate (because there are many countries with cheap prices and high-quality developers)? If not, what role do you need in your own in-house team?
These are some of the examples, there are many to be taken into account and a lot of questions to be answered to build an app.
How to calculate the cost of developing my app
The final app development cost is the multiplication of the hours it takes to develop all the features in your Requirements and Analysis Document (RAD), multiplied by the cost of each hour.
The cost of each hour will depend on the profile required. It varies a lot depending on the expertise, role and supply/demand for that expertise. Although the hour of a Quality Assurance analyst starts at 35 $/h, the value of the same hour to a Tech lead or a CTO might cost hundreds of dollars.
App Development Costs by role
| Role | Hr/Rate |
| --- | --- |
| CTO / CIO | 90 USD – 200 USD |
| Architect / Technical Lead | 60 USD – 120 USD |
| DevOps | 56 USD – 90 USD |
| Full Stack Developer | 55 USD – 90 USD |
| FrontEnd Developer | 45 USD – 75 USD |
| BackEnd Developer | 45 USD – 75 USD |
| Project Manager | 30 USD – 75 USD |
| Business Analyst | 35 USD – 50 USD |
| Quality Assurance Engineer | 35 USD – 50 USD |
| Quality Assurance Analyst | 25 USD – 45 USD |
5 phases to calculate the app development cost
When calculating the cost, the common approach revolves around the following phases:
1 – Gather requirements
Analyse all the functional activities that the software should be able to perform. Moreover, associate what is required from the technical perspective to perform those activities.
2 – List the tasks and needed resources
Each one of the requirements will be transformed into one or more tasks. For each task, there is an estimated time to be completed and the type of profile that is capable of taking it. This document is commonly named Work Breakdown Structure (WBS).
3 – Find the resources and their rates
Do your research about the current market prices and find the resources to handle the pre-defined tasks.
4 – Add a buffer and acknowledge the risk
In software development, even with all the analysis to foresee every possibility, it is common to have unexpected problems. Consider adding a 15% or 20% margin to unexpected plan deviations.
5 – Add it all up
If you sum up all the rows, you will have an accurate estimation of the app development costs.
Feel free to use TechRivo's template for the proper construction of a Work Breakdown Structure (WBS) and get to know how much your development will cost.
Mobile App Development Cost by common features
| Feature | Description | Duration (Days) | Cost ($) |
| --- | --- | --- | --- |
| User Registration | Allows users to register an account by using their email or social media accounts. | 3 | 800 – 1,000 |
| User authentication through facial recognition | Use devices' video cameras and state-of-the-art AI to identify fake users. | 5 | 2,800 – 3,800 |
| Offline mode | Provide the option of using the application when the device doesn't have access to the internet. | 5 | 3,200 – 4,000 |
| Search engine | Allows users to search for products, articles or content in the app using common filters. | 3 | 700 – 1,200 |
| Chat | Give the possibility for users to interact with each other and with service providers. | 8 | 3,000 – 4,000 |
| Google Maps integration | Integrate with Google Maps API and take advantage of the information available. | 3 | 600 – 900 |
| Geolocation | Provide the location of packages, vehicles or other moving entities. | 4 | 700 – 1,100 |
| Video/audio streaming | Provides users with video/audio content without consuming device storage. | 5 | 2,500 – 3,200 |
| Payment gateways | Allow users to automatically pay by card, PayPal or other payment processors. | 3 | 900 – 1,400 |
Cost of developing famous apps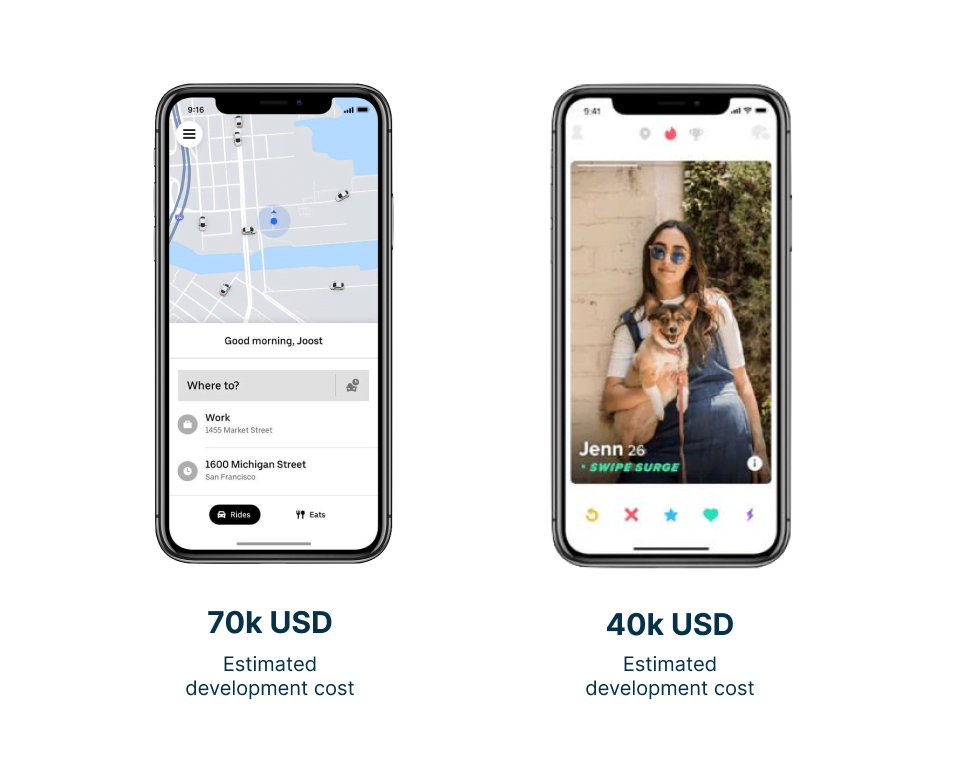 The total costs of developing famous apps like Uber, Instagram, Wise or Tinder depend a lot on the cost these companies had on Product Development. These tasks included numerous Proofs of concept, user A/B tests, feature developments, Marketing initiatives etc. That is the reason why these companies received between 200k USD and 500k USD in seeding investment.
Nevertheless, the cost of replicating the applications considering only the current state would be much lower than the amounts above.
As an example, a replication of an App similar to Uber, considering the main features, could cost 70k USD. On a different note, a dating App with common key features, similar to Tinder, is possible to build with 40k USD. 
How to reduce the cost of developing an app
Regarding software development, the two most popular approaches are outsourcing and building an in-house team. Although outsourcing may take away some of your control, it is definitely more cost-effective as you can choose between different agencies and use ready-made processes. In addition, app development companies with years of experience like TechRivo can efficiently handle multi-platform mobile app development projects.